Is this course suitable for you? 
This course is available: 
for allied health clinicians (Cerebral Palsy Alliance employees only) who have completed 'Coaching in Therapy Training'
Why choose this course? 
The Coaching in Therapy – Advanced Training is an extension of the Coaching in Therapy training  and is designed to consolidate and further embed the skills learned from this course. 
A coaching framework is increasingly being applied within our service delivery at Cerebral Palsy Alliance. Coaching involves relationship directed, and client/family centred intervention. The skills needed for effective coaching take time to develop and involve an ongoing cycle of reflective practice. 
What content does the course cover? 
The Coaching in Therapy – Advanced Course  will involve small group case study discussion. All participants will be required to bring a case study for discussion where they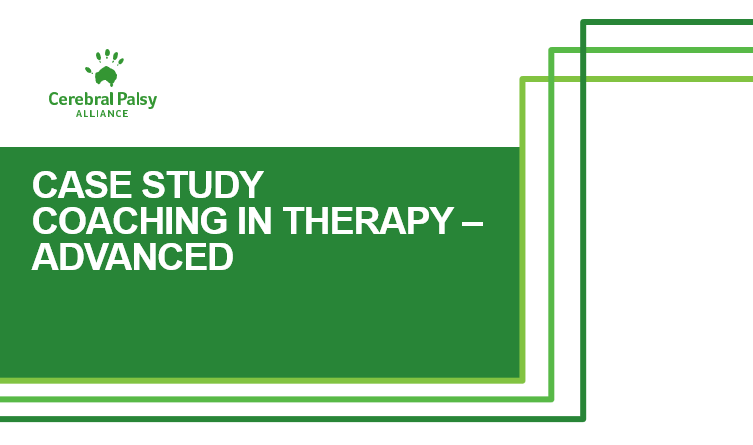 have used parts or all of the coaching framework with a client and/or family.  Case study discussions will involve the entire coaching process: joint planning, observation, action /practice, reflection, feedback. 
This course aligns with clinical competencies relating to coaching skills.
Note:   Please use the powerpoint template (download from this page) for development of your case study presentation.
Trainers
Several members of the Clinical Governance team facilitate this training. 
What is the cost?
No cost for this course for CPA employees
How long is the course?
The Coaching in Therapy – Advanced Training is offered as a two hour workshop. The training will be delivered via Teams in small groups (maximum 6 participants). Staff can register multiple times e.g. annually as appropriate for their learning needs.
What are the pre-requisites for this course?
•    Complete full Coaching in Therapy training (7 sessions in total) 
•    Has started using the coaching framework with at least 3 clients 
•    Capacity to commit to 2 hours of training 
•    Development of a case study using template provided 
•    Willingness to present a 10 minute case study involving a client that is on active caseload 
•    Willingness to actively engage in small group discussion and reflect on own practice resulting in more effective coaching skills
 Where can I get more information?
Coaching skills and appropriate timing for attendance at this training can be discussed with clinical supervisors. 
Enquire Now